"There was a tennis academy right across my home so as a kid I used to enjoy the game for hours. One day, I went to play tennis & after seeing my game the coach said- You were terrific, you should play it daily. I was just 12, when I started playing where everything about the game made me happy. Every moment I tried to improve my game to take it to a new level. In just 2 years, I went from being a beginner to an advanced player. Meanwhile I started representing our state in singles & doubles tournaments & brought home many titles. At 15 years of age, I was the youngest player to receive The Player of the State Award.
Soon, I enrolled in 2 of the biggest professional tennis training courses of our country at PTR & passed them with the highest grades. After its completion, I was selected to work as an Associate Director at one of the best sports camps in the USA. Those were the great times as I worked there for a few years & coached many bright students but my inner bug kept on asking me what's next ? I applied to work at Pontiac campus in New York where after seeing my achievements they appointed me as the Director of Tennis.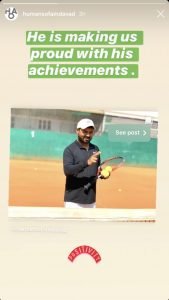 Soon,I started training for the US Professional Tennis courses which is considered as one of the most disciplined training courses in the world & cleared all 3 courses with the highest grade making me stand amongst the top 10 coaches in India to complete those courses. I returned back & was awarded as the Coach of the year by the PTR, which made me the youngest player to receive it.
Recently, I also completed the 2 most rigorous tennis training courses in the World- Master of Tennis & Global Professional Tennis Coaches Association where only 12 coaches are selected out of the 16,000 coaches from 135 countries. With this achievement I became 67th coach in the world, 13th in Asia & 2nd in India to hold such a degree. The same kid who used to watch the tennis academy from his home, owns a tennis academy today in the city where he has trained many tennis players who have gone on to win more than 110 championship titles for our State.
Any Message?
Always ask yourself what's next ?
Because staying the same means going backwards."
This article was published on …